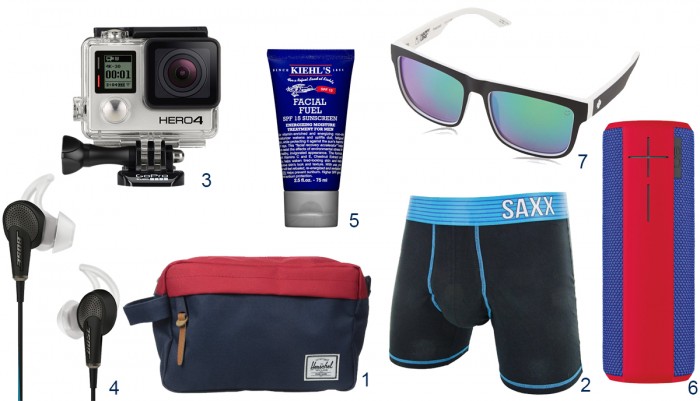 1. Herschel Travel Kit $25
Keep all your bathroom essentials in one stylish and compact wash bag. With an assortment of colors and patterns it'll be hard to choose just one.
2. Saxx boxers from $29.95
Saxx are a new breed of boxer and thankfully allow you to say farewell to that uncomfortable holiday chaffing. Designed with a special lining that keeps your most valuable assets safe and secure you'll be able to sightsee, sweat and party the night away without worrying about damaging the goods.
3. Go Pro Hero4 Black $499
The newest of the Go Pro line will ensure those holiday antics and adventures are caught in High Definition. A perfect way to make sure anyone left at home suffers extreme holiday envy.
4. Bose QuietComfort 20 Acoustic Noise Canceling Headphones $299
Don't suffer through a plane ride of snorers, crying babies and sniffling neighbors ever again these noise cancelling headphones are the best travel companion a man could ask for, plus unlike the over ear kind these will take up absolutely no luggage space and still provide you with crisp high quality sound.
5. Kiehl's Facial Fuel SPF 15 4.2 Fl. Oz. $35
Let your skin arrive at your holiday destination fresh, hydrated and ready to take on the sun with this awesome non oily SPF face lotion.
6. UE Boom wireless speakers starting at $199
Blast your favorite tunes anywhere and everywhere with this water resistant, easy to pack and great sounding wireless speaker. You'll wonder why you hadn't invested in one earlier.
7. Discord Spy Sunglasses $130 Whitewall Wayfarer Polarized
Stand out in the crowd for all the right reasons and feel damn good about these SPY Sunglasses made of 100% biodegradable Plantate with a portion of every sale going to the Keep A Breast Foundation.