If you live in Singapore, the weeks of persistent haze in the unhealthy range and no end in sight probably have you yearning for a haze escape holiday. Here are 6 easy getaways to escape the haze. As winds are always changing, check the regional haze map to see where the haze cloud is spreading to.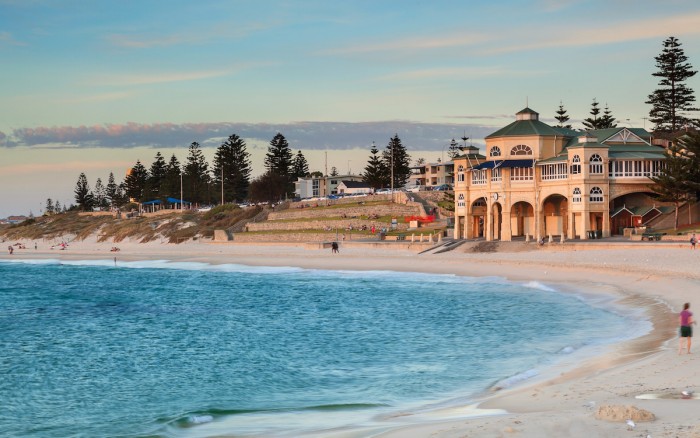 Perth, Australia
The number 1 choice is to get right out of Asia to eliminate any chance of a change in wind direction that could cause your haze escape to be ruined by... haze! Perth is a short(ish) 5 hour flight away, which will not only get you away from the haze but also give you nice fresh air to breath. Spend your days at Cottesloe Beach or tour the wineries at Swan Valley. Visit the small downtown area, Northbridge and Fremantle for a nice selection of restaurants and bars, unique shopping spots and changing activities including food festivals and outdoor movies.
Note most nationalities can get a tourist visa quickly online and look out for good deals on budget airlines including Scoot and Jetstar.
More Articles about Perth | Perth Hotels

Bali, Indonesia
With the recent addition of several western countries to the 'no visa necessary' list, Bali is now more enticing for a quick getaway. In Bali, not only can you get a beach getaway, you can also get a hillside retreat in Ubud where rice patty fields abound. Even though the haze cloud hasn't hit Bali, beware that burning of garbage is common practice here which can quickly trigger a feeling of panic in anyone trying to escape Singapore's haze. Note rainy season is October to March.
Bali Travel Guide | Bali Hotels

Ho Chi Minh City (Saigon), Vietnam
This bustling city really stands apart from all other Southeast Asian cities. The abundance of two wheeled vehicles is quite a sight to see and makes crossing the road an adventure. Vietnamese cuisine is some of the freshest Asian cuisine, with coriander (cilantro) being a herb of choice. For the adventurous try a Banh Mi sandwich from a food cart or for a safer on the stomach bet head to the Nha Hang Ngon restaurant with food prepared freshly in front of you.
Vietnam being one of Asia's cheapest countries, many visitors stock up on shopping here, picking up local coffee or having a suit tailor made. History buffs will enjoy a visit to the War Remnant Museum and Cu Chi Tunnels. Note a visa for man
More articles about Ho Chi Minh | Ho Chi Minh Hotels

Bangkok, Thailand
So you might be switching haze for air polution, but at this stage, we'll take it! This city is cheap and easy to get to. The over abundance of hotels in Bangkok, means room rates are low. A decent hotel can be found for well under $100, while brand new hotel chains can be had for less than $200. The top sights to see in Bangkok include a variety of elaborate temples, a visit to one of the many markets including Chatuchak Weekend Market and Amphawa Floating Market and travelling by local transport including tuk tuks and a river boat. Note rainy season in Bangkok is from July to October. Also haze has made it's way to Bangkok at certain times so check before booking.
More articles about Bangkok | Bangkok Hotels

Phuket and Krabi, Thailand
Head for a Thai beach vacation to escape the haze and the big city. Both beach towns can be accessed by affordable budget airlines in less than a 2 hour flight. Krabi is the smaller beach town with a more laid back feel and often cheaper hotel rates. Head to Phuket for the large selection of luxury resorts as well nightlife and abundance of activities. Read our article 'Krabi Versus Phuket - Which Thai Beach Destination is Right for You?' to compare the 2 haze escape destinations. Note September and October are often rainiest months of the year. Also haze has made it's way to Phuket at certain times so check before booking.
More articles about Krabi and Phuket | Hotels in Krabi and Phuket

Yogkakarta, Indonesia
This small Indonesian city offers both a haze escape as well as a chance to discover a rich cultural. It's a step back in time to what all of Indonesia was like at one time. Travel by horse drawn cart to visit palaces, art shops and the local market. Direct flights are available through Air Asia. Read Top 10 Things to do in Yogyakarta.
More articles about Yogyakarta | Yogyakarta Hotels