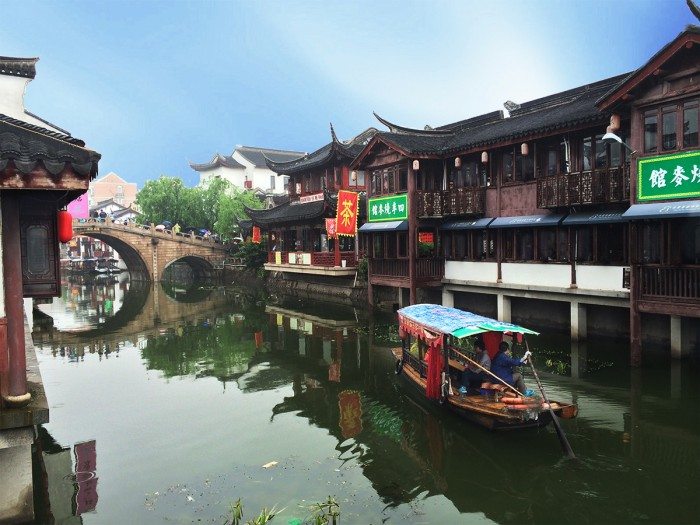 Shanghai is known for some excellent examples of old water towns. Most are over 90 minutes from town and require at least a half day to see. If time is limited, a 20 minute taxi ride from downtown Shanghai, or a short walk from the Qibao metro station will bring you to Qibao Old Street.
Qibao is a very small water town which can be walked in 30 minutes. So keep your expectations in check, and come to see a small sample of what old Shanghai was like. The town was built in Northern Song Dynasty (960-1126) and grew into a prosperous business center during Ming (1368-1644) and Qing Dynasties (1644-1911)¹. Stroll the alleyways past small tea houses, a temple and shops selling everything you can imagine.
See the town from the water with a 10 minute boat ride down the canal for only 10 Yuen. And don't miss the eat street with a variety of tasty and unusual treats.
At the ticket counters, passes can be bought to visit a collection of mini museums. My friends and I went to many of them including Zhou's Miniature Carving House, Shadowgraph Museum, The Pawn Shop and The Memorial Hall of the Artist Zhang Chongren. I was underwhelmed by most so would recommend buying your ticket at the door if the museum looks of interest to you instead of buying the pass.
P.S. We visited Shanghai thanks to China's budget airlines Spring Airlines
Qibao Old Street

1. Referenced from Travel China Guide