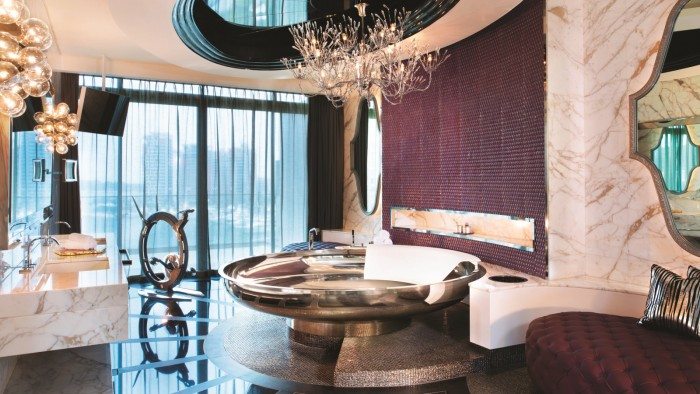 Most of us have fantasized about what it would be like to stay in an incredible hotel room. You've seen those pictures: rooms with underwater bedrooms, over-water bungalows surrounded by crystal clear turquoise water, open-air suites in the jungle with romantic four-poster beds draped with white mosquito nets.
Singapore is home to several fantastic hotels and some of these feature very cool and very luxurious rooms. Are you in need of some motivation to work even harder? Well, here are 10 goals for you. Check out these awesome hotel suites in Singapore.
Presidential Suite at Marina Bay Sands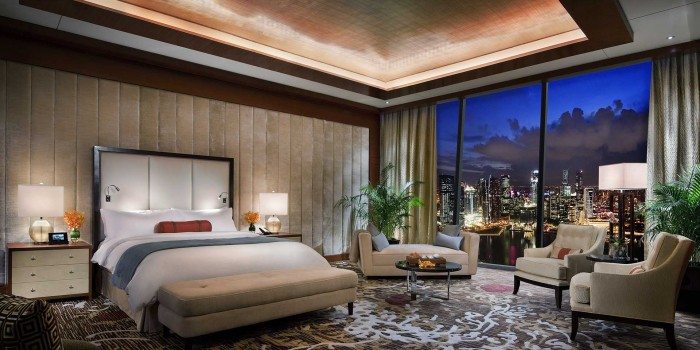 Traveling with a group? One or two furnished balconies not enough for you? Are you an actual president? Then, consider the Presidential Suite at Marina Bay Sands. This gigantic 509-square-meter suite has three bedrooms; three spacious bathrooms—each with a Jacuzzi; three furnished balconies; two living rooms including one with a baby grand piano; a media room with karaoke; massage and gym rooms; and a 24-hour butler team.
King Cole Suite at the St. Regis Singapore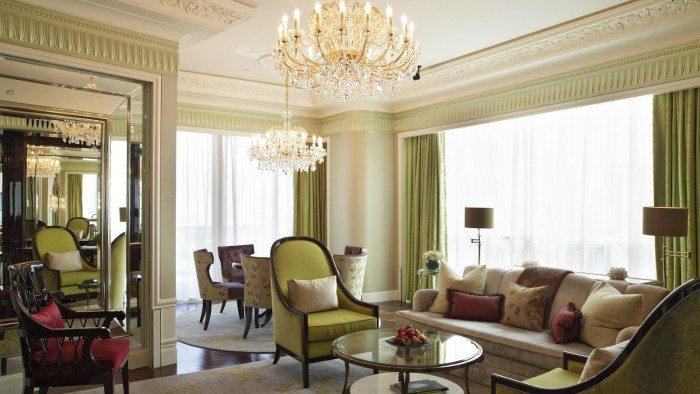 If you're looking for opulence, consider the King Cole Suite. The second largest suite at the St. Regis Singapore, this suite features a luxurious living room, floor-to-ceiling windows, a terrace with sweeping views of the city, a French Breche de Benou marble bathroom, a plush king-sized bed, and more. Guests have a private dining menu and complimentary return airport transfer in a luxury limousine.
Extreme WOW Suite at the W Singapore Sentosa Cove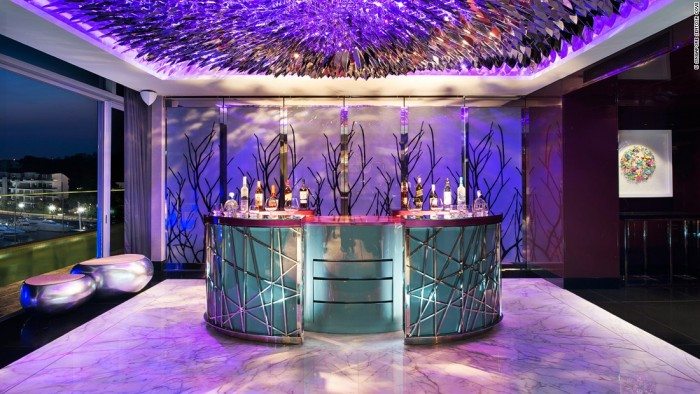 Wow, indeed. This one-bedroom, 195-square-meter suite is the perfect space for an extravagant party or guests who love art and design. The Extreme WOW Suite features curated art pieces and a funky yet luxurious furniture and décor. There is a full, well-stocked bar; DJ booth; full kitchen; a terrace with panoramic views of the South China Sea and Quayside Isle; an outdoor plunge pool; and more. Rates for the Extreme WOW start at S$12,000.
Eden and Nirvana Suites at the Naumi Hotel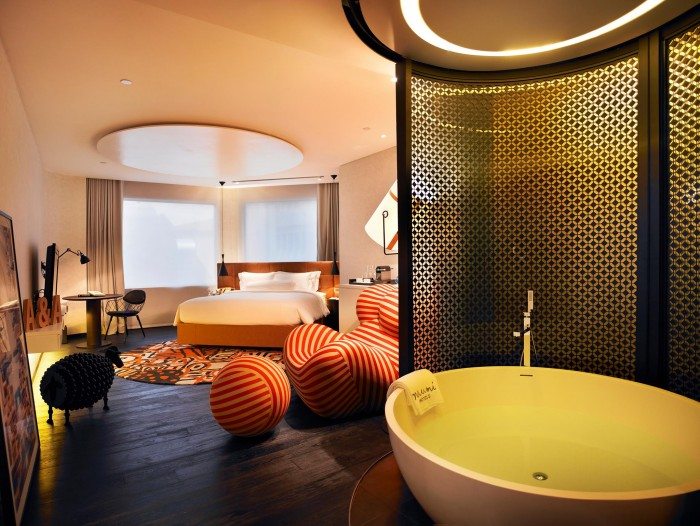 Inspired by Andy Warhol, the Eden and Nirvana suites at Naumi Hotel offer elegant and eclectic design with interesting shapes and pops of color. Guests are also treated to an in-room scenting service called Scent-sational Therapy. The bathroom features a rain-head shower, bathtub, and glass panels that change from transparent to opaque with the touch of a button.
Theme Suites at the Fullerton Bay Hotel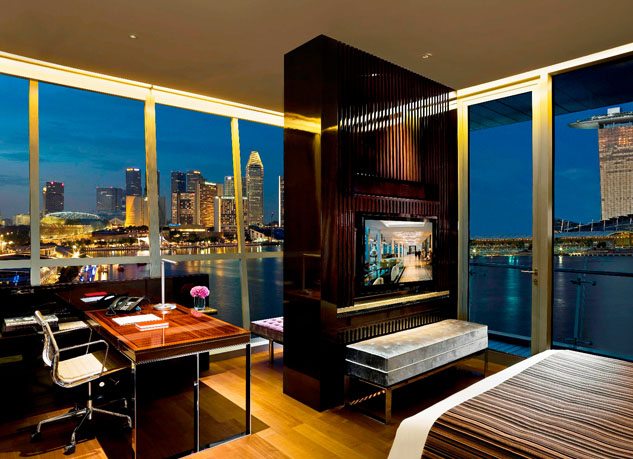 Take your pick from five different theme suites at the Fullerton Bay Hotel. All are exquisite, have beautiful views, and offer a slightly different design. Enjoy an exclusive balcony, floor-to-ceiling windows in all rooms, the finest quality linens and bathrobes, a 19-inch LCD TV in all bathrooms, and more. Guests staying in the Theme Suites have access to the Fullerton's gorgeous rooftop pool with views of Marina Bay, a 24-hour gym, and complimentary transfer service to business centers and shopping malls.
Ocean Suites at Resorts World Sentosa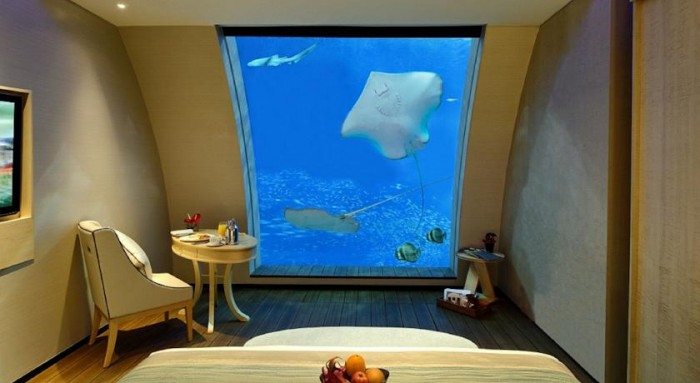 These fantastic two-story suites feature an upper floor with an open living area and outdoor patio and Jacuzzi, and a lower floor with a magical underwater view of over 40,000 fish swimming around the world's largest oceanarium. In this 5-star hotel, Ocean Suite Beach Villa guests get a personal butler, private Jacuzzi, private entrance to the Adventure Cove Waterpark, and more. When you want to watch the underwater show, the room lights are automatically dimmed when the viewing panel is raised.
Hard Rock Hotel Sentosa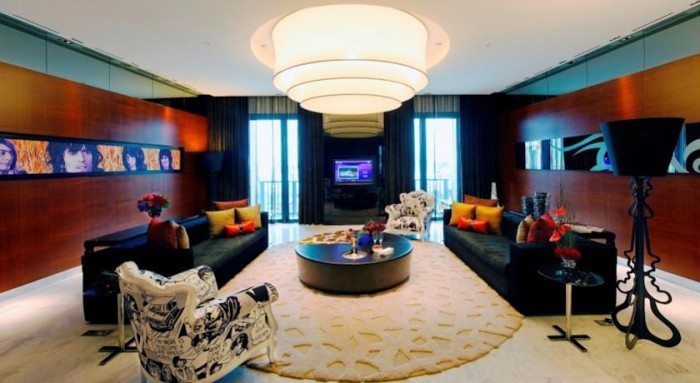 Wanna feel like a rock star? You can get close in this suite at the Hard Rock Hotel Singapore. 179-square-meters in size, the suite offers a large living area, balcony overlooking the pool, a state-of-the-art entertainment system, luxurious bedding, and even special lighting in the bathroom to make it look like a rock star's dressing room.
Royal One-Bedroom Suite at the Four Seasons Singapore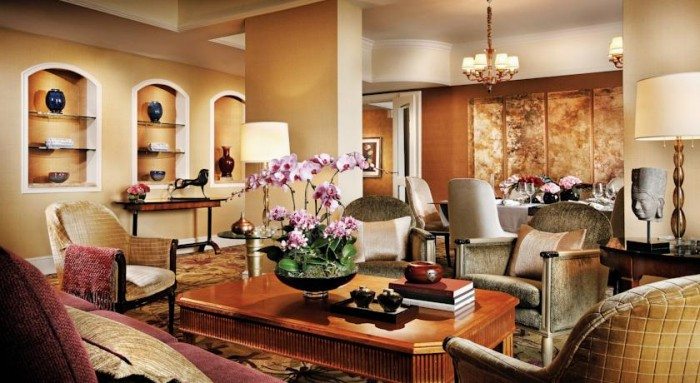 Located on the 18th floor of Four Seasons Singapore, this elegant, plush suite has a spacious living area, large executive desk and work area, dining area that can seat six, fully equipped kitchenette, marble bathroom with a separate shower and tub, and a guest powder room. It can accommodate four adults or two adults and two lucky kids.
Presidential Suites at Raffles Hotel

The Sarkies and Sir Stamford Raffles Suites have two bedrooms, a parlor and dining room, a marble bathroom, and are decorated with beautiful antiques and art. The Sarkies room is named after the family that established Raffles Hotel and ran it until the early 1930s; the Sir Stamford Raffles Suite is named for the founder of modern Singapore. Each is 260 square meters and offers 24-hour butler service, daily turndown service, a pillow menu (yes, "menu"), and chauffeured limousine service.
Penthouse Suites at the Fairmont Singapore
"Penthouse Suite" just has such a cool ring to it. At the Fairmont, these 199-square meter suites have large, elegant living and dining areas, a master bedroom and guestroom, two marbled bathrooms, and a private sauna and Jacuzzi. Guests also get complimentary breakfast and cocktails in the evening and concierge service.