With a long, rich history and a wide range of religions practiced in the region, Asia is home to some of the best cultural festivals in the world. From wet and wild Songkran in Thailand to the silence and stillness of Nyepi in Bali, there are quite a range of festivals to experience.
Here are five of the top cultural and religious festivals in Asia that travelers should experience.
Songkran in Thailand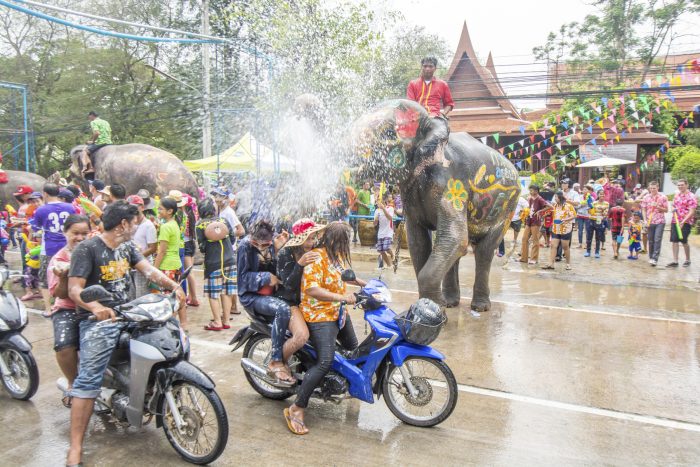 Songkran commemorates Thai New Year, which is April 13th every year, but it's also celebrated the 14th and 15th. Traditionally, celebrants spend their mornings visiting local temples and offering food to Buddhist monks. Many pour water on statues of Buddha in an act of purification and to wash away bad luck. Many families also reunite for the holiday, and in a show of respect, young people often pour water on the hands of their elders.
The best part of Songkran, though, at least for travelers, is the water festival. For several days, locals and tourists spend the day prowling the streets, large water guns in hand, looking for people to douse, and sitting out in front of homes and businesses soaking passersby. If you're visiting Thailand during this time and you're out in the street, you're fair game. Expect Thai people or other tourists to squirt you with water, chase you down with a bucket of water, or, my personal favorite, casually walk up to you, and, with a smile on their face, pour a cup of cold water down your back.
It's outrageously fun, and if you're planning a trip to Thailand or Southeast Asia around this time, try to be there for Songkran. Chiang Mai is an especially good place to experience Songkran; it's renowned for having one of the biggest Songkran festivals in Thailand and it's usually very hot there this time of year, so being doused in water is very refreshing!
Best experienced in: Chiang Mai
Holi in India and Nepal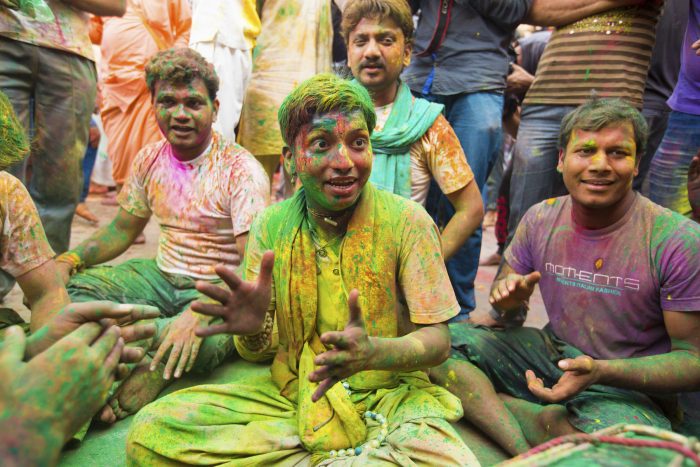 Holi is an ancient two-day Hindu festival observed largely in India and Nepal. It's celebrated every year on the Purnima (Full Moon day) falling in the month of Falgun (a month in the Bikram Sambat Hindu Calendar)—or, between the end of February and the middle of March on the Gregorian calendar.
On the night before Holi, people gather for a Holika bonfire to do various rituals and pray that their internal evil be destroyed with the fire. On day two, or Rangwali Holi, the fun begins. Revelers smear dry powder and throw colored water on each other, and, like Songkran, everyone is fair game. Participants also have parties and eat Holi delicacies, which sometimes includes bhang, a paste made from cannabis plants.
You'll find Holi festivities all over India and Nepal, and they vary from subdued temple visits to parties with DJs, so where you go depends on the kind of experience you want to have. However, a good option is India's capital, Delhi, where some of the most boisterous Holi celebrations take place. If you're staying or hanging out near Paharganj, expect to be covered in color by almost everyone you encounter. Delhi also hosts the Holi Moo Festival, which features over 40 Indian and international performers. It's a safe environment and non-toxic colors and bhang are provided.
Best experienced in: Delhi
Taiwan Lantern Festival - Taiwan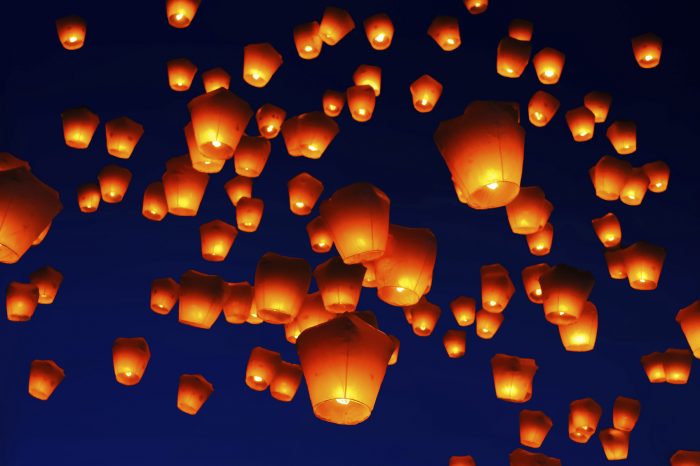 The Lantern Festival is a Chinese festival celebrating Chinese New Year; it's held on the 15th day of the first month of the lunisolar Chinese calendar, which, in the Gregorian calendar, is usually in February or March. It marks the final day of Chinese New Year celebrations. In modern times, lanterns are often decorated with elaborate designs and sometimes made in the shape of animals. Releasing a lantern symbolizes the release of one's past self and acquiring a new self, which one will again release the following year.
While there are many lantern festivals throughout Asia, Taiwan's lantern festival is known as one of the most beautiful. The Sky Lantern Festival is one of several festivals held in Taiwan. It takes place in Pingxi, a mountain town about an hour's drive from Taipei. It is said that the Sky Lantern Festival began during the Xing Dynasty, about 2,000 years ago. At that time, lowland villages were often raided by bands of outlaws, forcing residents to take refuge in the mountains above. After the outlaws were gone, village watchmen would release lanterns, or "fire balloons," to let the residents know their homes were safe.
Lantern Festival participants can buy a lantern, write their dreams and goals on it, then send it soaring. There are collective launches that start at 6:30pm, taking place three times an hour until 9:30pm.
Best experienced in: Pingxi District
Nyepi - Indonesia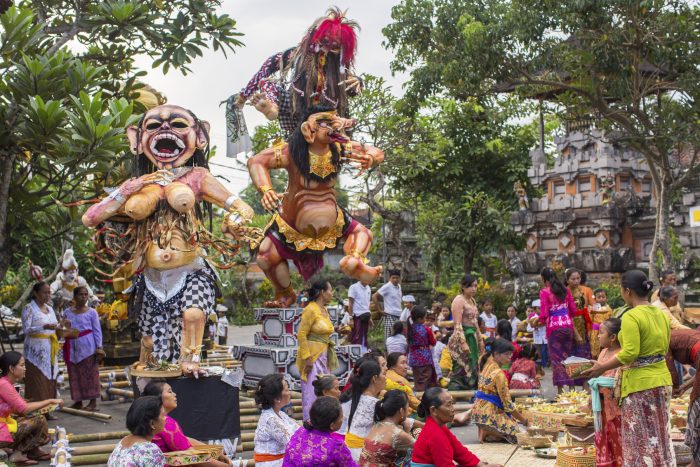 Unlike other New Year celebrations, which often involve loud parties and other shenanigans, Nyepi, the Saka New Year, is dedicated to silence.
Nyepi, a Hindu celebration celebrated mainly in Bali, is commemorated every Isakawarsa, or New Year on the Balinese calendar. On the third day of this six-day celebration, the island comes to a standstill. Hotels reduce activity, all shops are closed, there are no lights or candles in Balinese homes, no cars or scooters on the road—there are even no scheduled incoming or outgoing flights from Ngurah Rai airport. Nyepi is a day of self-reflection, and these are all potential distractions. Tourists and non-Hindu residents are not exempt from these restrictions, and no one is allowed on to the streets or beaches.
While day three of the celebration may not be very exciting for tourists, there is a lot to experience on the days before and after this day of silence. For example, on the day before Nyepi, is when ogoh-ogoh parades happen, in which Balinese men and boys carry demonic statues through the streets, accompanied by gamelan music. The ogoh-ogoh are then burned to rid the evil spirits for the year ahead.
Best experienced in: Bali | Read: Guide to the Day of Silence in Bali - Nyepi
Thaipusam - Malaysia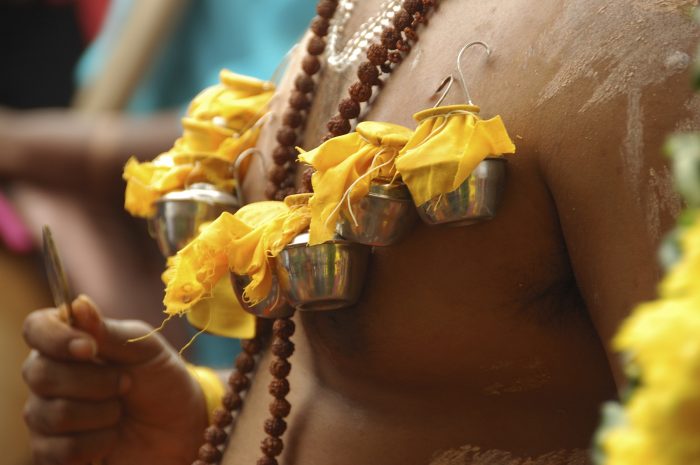 This next festival is not for the squeamish.
Thaipusam is a Hindu festival held on the full moon of the Tamil month of Thai, which is January or February in the Gregorian calendar. It's celebrated mainly by the Tamil community and observed in countries with a significant Tamil population, including India, Sri Lanka, Malaysia, Mauritius, and Singapore.
In Malaysia, the temple at the Batu Caves often attracts over one million devotees and thousands of tourists. The temple is the end point of an eight-hour pilgrimage across the city beginning at the Sri Mahamariamman Temple. To demonstrate their devotion and offer penance to Hindu God Lord Murugan, devotees carry various types of kavadi, or burdens, and perform incredible—and often grisly—feats such as piercing their skin, tongue, or cheeks with vel skewers.
Fortunately, tourists aren't encouraged to participate.
Best experienced in: Kuala Lumpur
Pi Mai Lao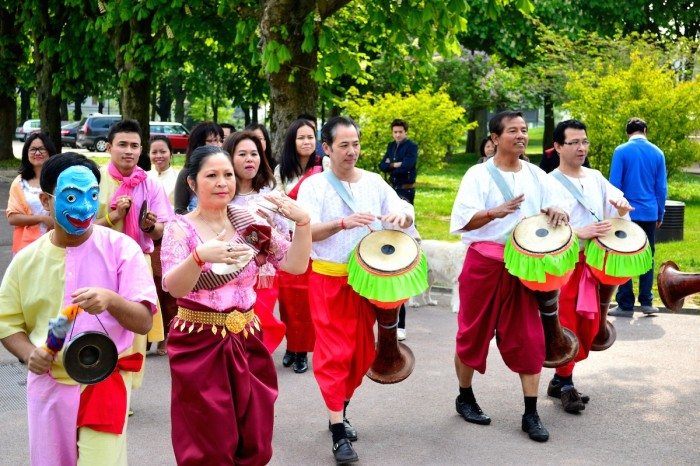 Photo by Rdghalayini
Pi Mai Lao is the celebration of the Lao New Year. celebrated from April 14 to 16, the hottest part of the year. Celebrations take place all across Laos but are especially spectacular in Luang Prabang with the 3 day festival stretching out to an extraordinary week long event. Here you can see crowds take to the street to pour water and blessing on their elders and a parade of music, dancing, traditional dress and costume.
Best experienced in: Luang Prabang, Laos