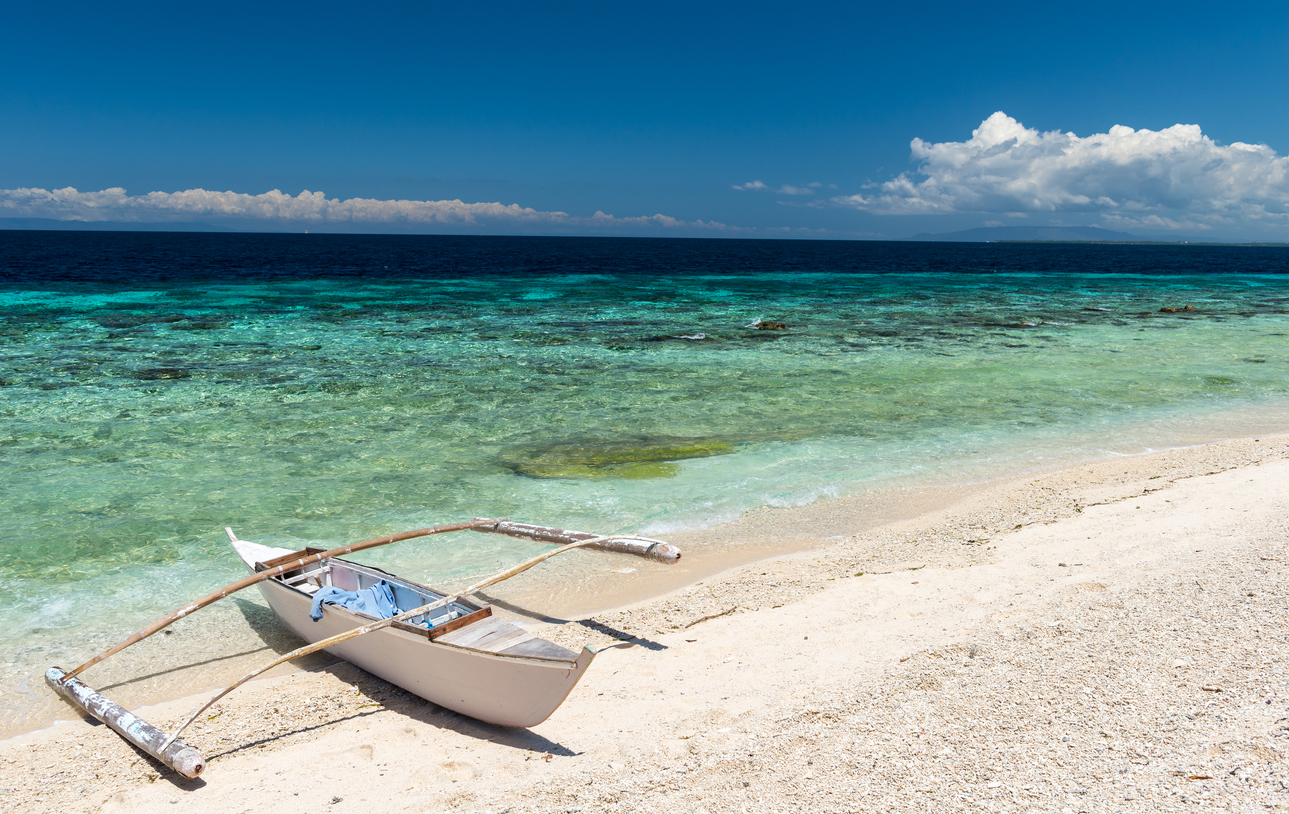 From the crystalline blue waters of Boracay, to the pristine white-sand beaches of Palawan - there is no doubt that the Philippines is home to some of the world's most picturesque and idyllic beaches. However with close to 5000 uninhabited Philippine islands, the true gems are the beaches that are stowed away and untainted by man.
Though getting there will prove to be slightly more challenging, you will be rewarded with an unrivalled and private experience. For a truly visceral trip, visit one of these untouched, yet no less beautiful beaches in the Philippines.
Mahabang Buhangin Beach, Calaguas Island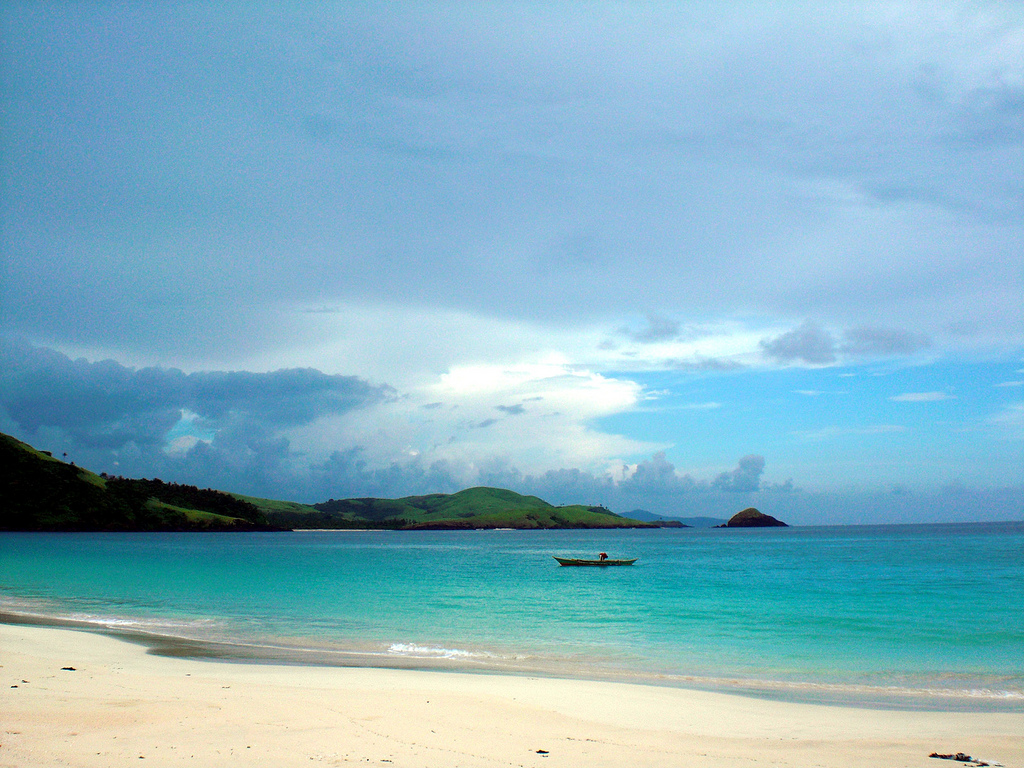 Unspoilt and peaceful. Just two of the words commonly used to describe this remote beach on the island of Calaguas. Devoid of a cellular network, the Mahabang Buhangin Beach is perfect for those longing for a complete digital detox. With white sandy beaches and crystal clear blue waters, Mahabang Buhangin Beach is a world-class beach, unmarred by humans. Enjoy a clandestine rendezvous with your significant other or simply an intimate family vacation.
Getting there: Take a flight to Ninoy Aquino International Airport (Manila). From there, take a bus to Daet, where the two main ports leading to Calaguas are located. From Daet, take a short jeepney ride to either Vinzons or Paracale port and then a two-hour boat ride to Calaguas.
Black Island Beach, Malajon Island (Black Island)
Black Island, or Malajon Island, derives its name from the towering and imposing black limestone rock mountains surrounding the island. Marvel at the majesty of this natural wonder as you sink your toes into some of the softest and finest sand in the world along the vast coastline of Black Island Beach.
Wander into some of the many caves nestled within the limestone cliffs and you might even stumble upon a natural pool enclosed in one of the larger caves. The secluded beach paradise of Black Island offers you everything you need for a quiet holiday of self-discovery and introspection.
Getting there: Black Island is usually a part of Calauit Island Tours that can be booked in Busuanga and Coron.
Golden Sunset Beach, Camiguin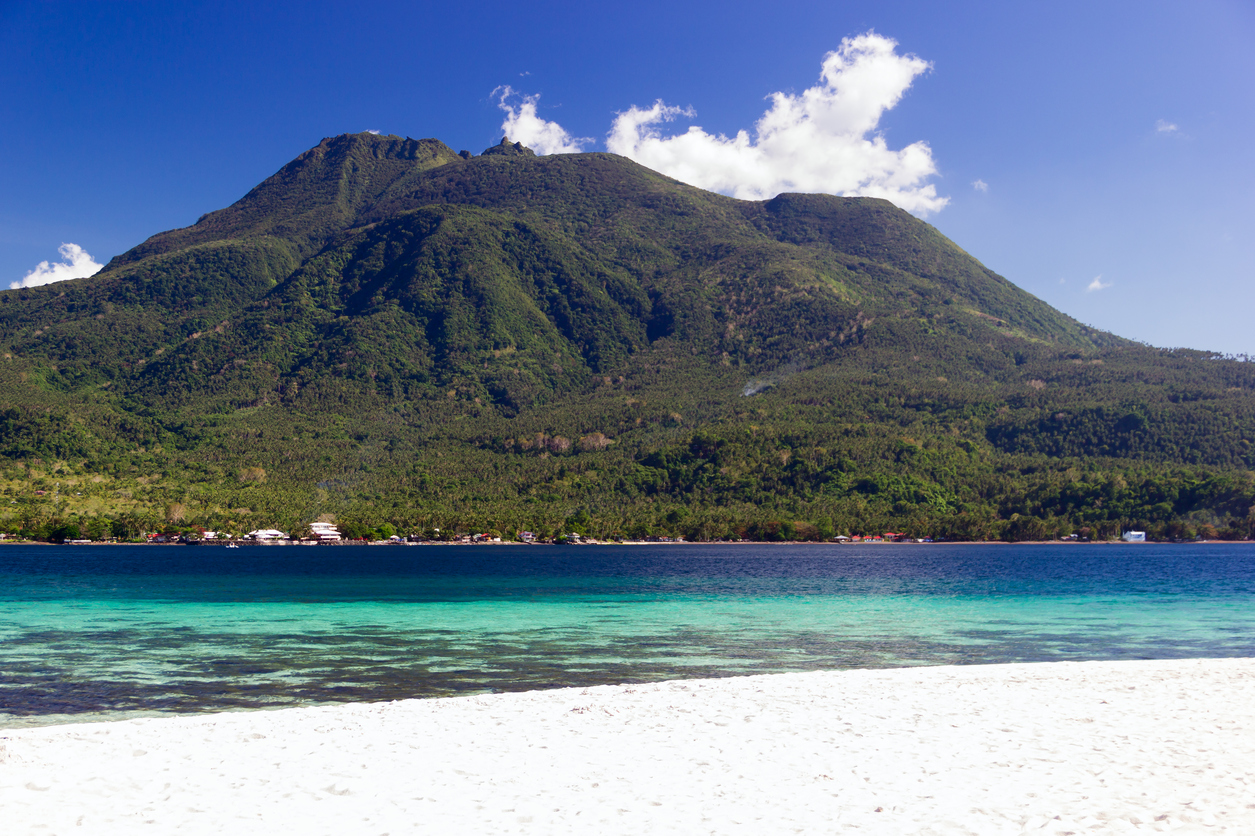 The Philippines' equivalent of Hawaii, Camiguin's understated draw is in its gentle waves, fresh and calm sea breeze and perfect sunset views. With 10km of waters separating the island from the mainland, it is one of the most secluded and tranquil Philippine islands. Catch one of the world's most captivating sunsets at the Golden Sunset Beach or engage in one of the plethora of activities available like jungle trekking and volcano climbing.
Getting there: Take a flight to Mactan-Cebu International Airport, then another flight to Camiguin Airport.
While not the most accessible of destinations, the path less traveled is almost always the most rewarding. The promise of tranquility, seclusion and introspection will certainly offer you a visceral experience, whether you are traveling alone, with a lover, or even with your family and friends.
Puraran Beach, Cagnipa Island
While some might retreat to the mountains to reflect and recharge, others might prefer the sun and beach for self-reflection. Cagnipa Island is the perfect island sanctuary for peace and silence. Due to its seclusion and rich fauna and flora, Cagnipa Island is the perfect island sanctuary for peace and silence. Immerse yourself in the rich sounds of nature while relaxing at the white, sandy Puraran Beach. If you're up for it, Puraran Beach is also one of the most beautiful locations to view the sunrise. If you're lucky, you might just be unexpectedly accompanied by some wild dolphin!
Getting there: Take a flight to Ninoy Aquino International Airport (Manila) followed by a domestic flight from Manila to Virac. Alternatively, take a bus from Manila to Tabaco, Albay followed by a ferry from Tabaco Port to Virac Port. There are various jeepneys and buses that you can take from Virac to the island.
Guisi Beach, Guimaras Island
Guimaras Island is known to produce some of the world's sweetest mangoes. And there is nothing sweeter than lazing on the powdery, white sand of the beautiful Guisi Beach with a deliciously sweet mango in hand. Certainly, the quintessential beach bum experience away from crowds and tourists!
Getting there: Take a flight to Ninoy Aquino International Airport (Manila) and then a domestic flight from Manila to Iloilo. From Ortiz port in Iloilo City, hop on a ferry to Jordan Wharf in Guimaras. Thereafter, take a jeepney to Guisi Beach.
Panampangan Beach, Tawi-Tawi

In spite of bandits terrorising the island, there is no question that Tawi-Tawi has some of the most magnificent and breathtaking beaches in the Philippines. Panampangan Beach, also referred to as Virgin Island, is just one of the hidden beaches amongst its labyrinth of islands. This exquisite beach features a long sandbar with sand so fine and soft that your feet will sink in with every step. With such unrivalled beauty, it is certainly a risk worth undertaking just to experience it first hand. However, travelers are advised to stay vigilant and to engage a local police escort if necessary.
Getting there: Take a flight to Zamboanga International Airport, then another flight to Sanga-Sanga Airport in Bongao, Tawi-Tawi. Alternatively, take a ferry from Zamboanga to Bongao.
Puraran Beach, Cataduanes
Puraran Beach might not be the prettiest of beaches, but it has a certain raw charm that puts it on our list. Have a stroll along the beach and gander at the waves crashing against the natural rock formations that are scattered across the coastline.
"The Majestic Waves" of Puraran also attract surfers from near and far, promising an unparalleled and exhilarating surf like no other. With its vast extent of beach, it is the perfect destination to sit with a book, nap or simply catch some surfers in action.
Getting there: From Manila, take a bus bound for Legaspi City. From there, take a jeepney to Tabaco City port and take a RORO to Virac. From Virac, there are jeepneys and buses that regularly ply the Virac-Baras route. Alternatively, if there is a Gigimoto bus, take it as it passes by Puraran.
Book a flight to the Philippines through ShopBack.sg to earn up to 30% in cashback and exclusive travel deals from Expedia, Scoot, Singapore Airlines and many more.