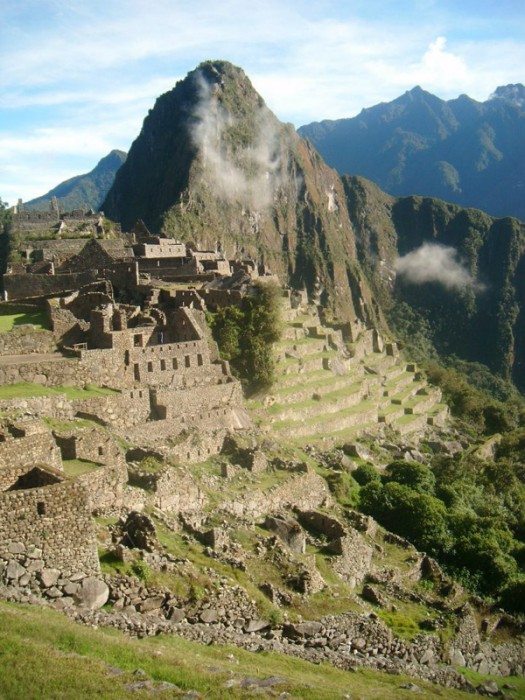 Who would of thought one country could offer so much. After first popping over the border from Bolivia just to have a brief look at the floating islands of Lake Titicaca I knew I was going to love Peru. I arrived in Peru after 3 months in South America, I'd seen bits of Argentina, Chile, Brazil and Bolivia and after an over night bus from La Paz I landed myself in Cusco. Now Cusco is a town maybe not everyone is familiar with, but as soon as you mention Machu Picchu light bulbs start going off! Machu Picchu is likely to be on everyone's bucket list, it's a UNESCO world heritage site and in 2007 was voted into the new 7 wonders of the world. For those who haven't heard of it, let me give you a briefing. Machu Picchu is a 15thcentury Inca site situated 2430 meters above sea level. Anything built out of stones so tightly fit you can't fit a piece of paper between them that high up can only mean one thing: BREATH TAKING!Now Cusco is the jumping off point to organize your way to Machu Picchu and the town itself is actually pretty great. If you're staying in the center of town its very easy to get around and every type of amenity you could possibly want is available. From cheap pedicures and massages to Starbucks, KFC's and Micky D's. At times it may feel a bit too touristy but it still will not disappoint!
Wandering around will bring you to neat town squares, endless churches, markets stalls, restaurants and souvenir shops. Make sure to get yourself to the central market for some fresh smoothies and fruit salads they are delish. And there are more then enough sites and ruins to check out around Cusco to keep you occupied for days just make sure you don't miss out on the most important ruin of them all MACHU PICCHU!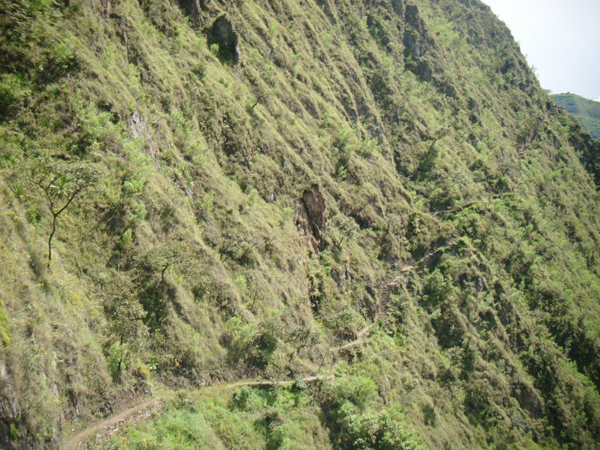 Getting to Machu Picchu
There are numerous ways to get to Machu Picchu and most can be organized once you touch down in Cusco. However the very popular classic Inca Trail which is a 4 day trek along the original Inca trail is one that needs to be booked in advance sometimes up to 4 months in advance depending on the time of year. This is due to the limited number of people allowed on the trail a day so keep that in mind when you plan your trip.
Other options to get Machu Picchu include:
A train all the way there and back with prices one way from about $15 for the local train up to $400 for the first class train (which after having a sneaky peek inside one of the windows looks like the titanic on wheels!!!!!)
There is also a bus, but it takes double the time of the train so probably not worth it!
There are different types of hikes which can be organized through any of the tour companies usually just a day in advance. These range from 2-8 days depending on what you are after. I opted for a 4 day 3 night jungle/bike trek which cost me $190 for 3 nights including accommodation, food and transportation. On this tour there are a number of activities you can add on. One being a trek to Wayna Picchu which is an additional hike to a look out over Machu Picchu and has other ruins at the top. Its only $10 extra and more then worth it, but there is a limited number of people allowed up a day so make sure you book this when you book your tour.
The Tour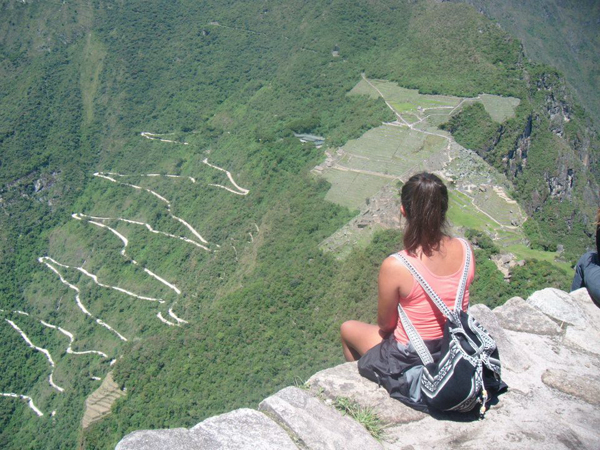 Day 1 -Mountain Biking, Water Rafting and a Short Hike in the Pitch Dark
The first morning of the Jungle trek we got picked up at around 7am and transported up to Abra Malaga which is 4316 meters high and we got to wizz down on a bike through country side and snow capped mountains and other stunning scenery. It was about 2.5hrs on the bikes but is nice and easy because its all downhill and the scenery does not get old. Once everyone reached the bottom we got picked up and brought to lunch in a nearby town. After lunch we had the option to go rafting or head up to the lodge for the night. The rafting was $25 so i figured why not since I've never tried it before. It was pretty good but to be honest it wasn't as challenging or as exciting as I thought it was going to be and kind of think if it wasn't my first time I would of been a bit let down. If you are planning on visiting other places in Peru I've heard there are better spots like in Arequipa.
After the water rafting which was about an hour I headed up to catch up with the rest of the group 'cause I was the only one that decided to do it. Unfortunately by the time we drove to the bottom of where we were staying the sun had set which made for a very interesting hike to my hostel. Luckily I was with one of the guides but basically we had to hike along a very narrow path up a hill for 25mintes in the pitch dark! Fortunately i had bought a little flash light but the guide was using his phone! No idea what we would have done if it wasn't for my light 'cause it did feel a bit dodgy and I was sketching out a small bit being just the 2 of us going up this dark path. Luckily just as he said, after 25minutes of trekking uphill I saw a light and heard the laughter of the other group which was music to my ears! At this point I was cursing the fact that we were the only tour group staying up in the hills, while the rest stayed in town, but I didn't have much time to vent 'cause then it was dinner time!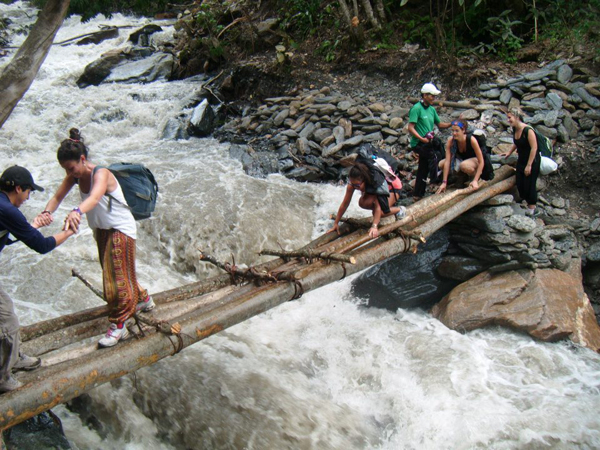 Day 2 - 16 km Hike up the Inca Trail with Hot Springs as Your Reward
We were woken by the sound of roosters and sunlight coming through the windows, and as I stepped outside I was greeted with the most amazing views of the valley, it was the pay off for my uphill trek! It was definitely worth the hike up and an added bonus that the other tours didn't get. Day 2 was Inca trail day and my god was it AMAZING! The highlight of the trek by far! This was the longest day of the tour which consisted of 16km of walking, which sounds a bit much, but trust me it was worth it. Along the Inca trail which is only a few km, you are walking along a narrow path on the side of a mountain with views of the sacred valley and river below. Some people who had a fear of heights had a bit of trouble with this part. They got through it, just maybe didn't enjoy it quite as much as the rest of us. Our guide stopped several times along the way and pointed out plants and explained the history of the trail and other fun things about the region. As we continued walking, the landscape kept changing so you don't even realize how far or long you are walking because at every corner there was something new and beautiful to look at.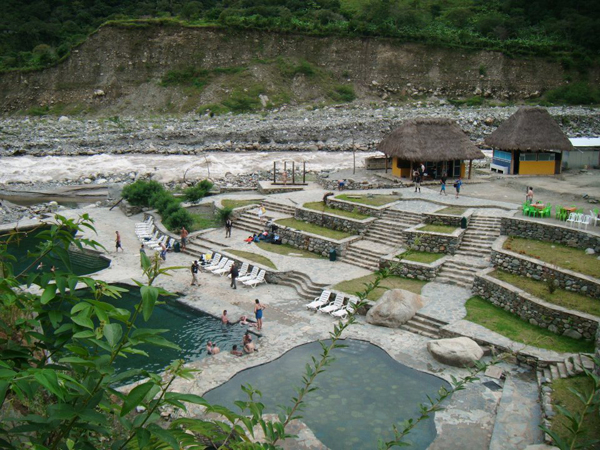 To top it all off we ended the hike at the hot springs! (This is an optional expense which is about $5) We got to lounge around in the hot springs for a few hours and relax our muscles which were in definite need of it. That night we stayed in a small town called Santa Teresa and ended out going out for a few drinks at the only bar around and dance the night away to salsa and reggae. Tip: Drink lightly if you don't hike well on a hang over.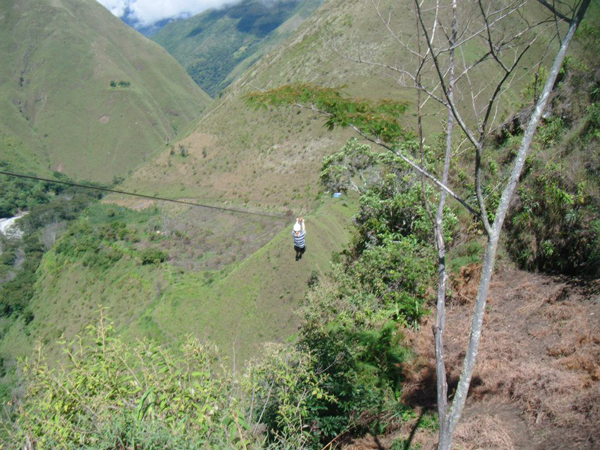 Day 3 - Zip Trekking and The Hike up to the Base of Machu Picchu
This was the easiest of all the days and included going zip trekking in the hills of Santa Teresa. This was also an additional option of $25. Our entire group decided to do this one which made it awesome. It's a series of 6 zip-lines suspended over the valley and river! So much fun and really is something anyone can do! After the zip-lining we got transported to Hydro electric where we began our walk towards Aguas Calientes, the town at the base of Machu Picchu. The hike was flat and followed a train track with more beautiful landscaping and was only 3 hours, so was basically a piece of cake! We got to Aguas Calientes at a decent time so we could relax, wander around and pick up some snacks and things for the day at Machu Picchu. (Make sure to bring plenty of food and water up with you as prices are extortionate once your at the top) Our guide explained everything to us that night.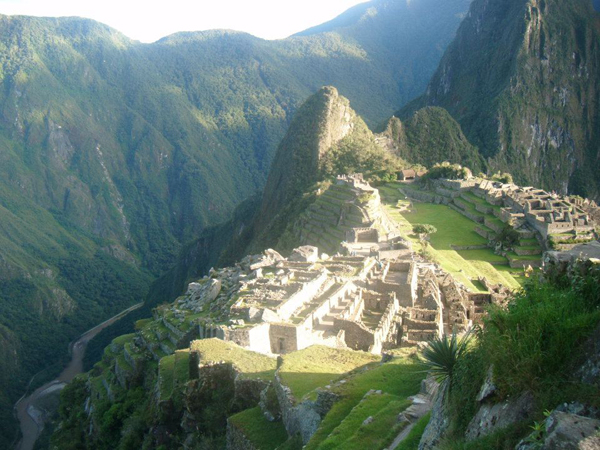 Day 4 - The Finale: Machu Picchu
The day we had all been waiting for! This day we had a super early start, I chose to walk up to Machu Picchu along with 3 guys while the rest of the group took the bus. My thinking was that I had just spent 4 days hiking here, why would I want to cheat and take a bus to the top! But really it's up to you. The bus to the top is around $10. Us walkers woke up at 4:30 am and got to the base gate for 5:00 am which is when it opens. The walk is up hill to the entrance of Machu Picchu and takes up to an hour which is fine because the gates don't open 'till 6 so any quicker and you just have to wait in line. The best part of it is, you beat the crowds.
As soon as the gates opened we rushed in to get the first glimpses of Machu Picchu before the crowds arrived. That first sight will leave you speechless. Machu Picchu is an ode to mankind and what we are capable of. No words can describe how absolutely stunning it is. You definitely need to see it to believe it! After strolling around, taking it in and taking loads of photos we caught back up with our group and our English speaking tour guide who walked us around and explained the history of the ruins. At 11am I decided to set off to conquer Waynu Picchu, the separate mountain that over looks Machu Picchu. This only takes about 45 minutes to get to the top and has amazing views of the surrounding area and a great overview of Machu Picchu. Since it is quite far up, it isn't as detailed a shot as you can get if you climb up to the guard house which is one of the areas of the ruins.
The rest of day 4 is all yours to spend as much time as you want wandering around and exploring. You just need to make sure you make it back down in time to get your allocated train back to Cusco. You can choose to either walk or bus back down to Aguas Callientes. I decided to bus but I reckon I deserved it :D As a reward to ourselves and to celebrate the new friends we made on our trek, when we got back to Cusco we decided to hit the town and dance the night away at Groove night club, a gringo filled club pounding top 40 and dance to the early morning! It was an amazing end to my time in Cusco, complete with bar top dancing!! It's safe to say I drink back all the calories I burned over the past 4 days. Now on to Arequipa and the deepest Canyon in the world!!!!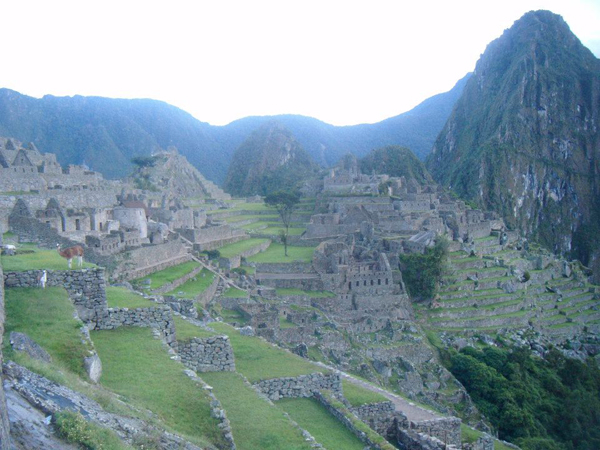 Tips when booking tours:
Shop around as prices can seriously vary and remember that cheaper isn't always better. Make sure to ask what is and is not included, because some will have extras that you need to pay. (ie. Rafting, zip-lining, the hot springs)
Ask to make sure the train ticket is included and the time of the train. They leave every few hours but if you take the last one at 9pm then you are stuck wandering around town for ages and don't get back to Cusco 'till about 1am which is a bit crap after a day of walking
When booking Waynu Picchu there are 2 sets of times to go up, 8am or 10am. Try and go for the later one that way you have time for your legs to rest after walking up to Machu Picchu and you also don't get stuck having to pass or wait for people coming back down 'cause the path is pretty narrow
Food on the tour is pretty basic. So if soup, rice and meat don't do it for you, you might want to book a slightly more expensive tour with better food, but make sure you ask about this first because better food isn't always guaranteed. All I know is there was another group which was dinning at the same restaurants as us but they paid $20 more and had way nicer looking meals.
If you care about group size, make sure to ask how many will be going with you. For the jungle trek all the tour companies seem to be going the same way so its not quite as intimate as the Classic Inca Trail or some of the other treks. But for the price its unbelievable!
Depending on your age and the type of group you are after, don't be afraid to ask who else is on the tour as the group often makes the trip. It's also great to do the tours if you're traveling on your own as it's really easy to get to know everyone.
Ask if the guides can speak English or the language you are after, so you can get the most out of your Machu Picchu tour
The company I went with was Conde Travel which does the tour for most of the big hostels in Cusco. I thought it was amazing and the guide who we had named Kenny was excellent especially because we were quite a rowdy group and half spoke Spanish, half spoke English. He went over everything in both languages and looked after us so well! Another plus to Conde Travel on the 4 day 3 night tour is we stayed in the hill top hostel while all the other groups stayed in town! Also just be aware there is no proper showers until you get to Agua Callientes!