High-tea usually conjures up thoughts of classical music, ornate furniture, scones and english accents. That has all changed now that W Singapore-Sentosa Cove has launched Drop the T², a high-tea with attitude. You'll still find scones at this high-tea, but they're served with a passionfruit curd and clotted cream in a swinging bird cage.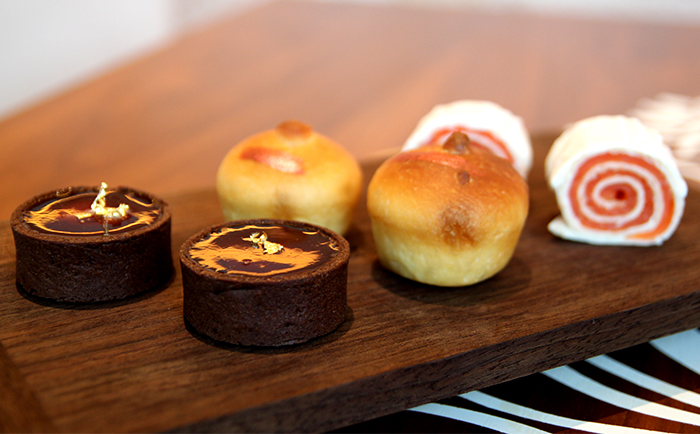 The quirkiness continues with a wood platter of what looks like muffins, brownies, and swiss rolls but are actually savouries in disguise. A bite of the "brownie" and yes there is a bit of chocolate flavour, but instead of a brownie, it's a Foie Gras Ganache Tart. The muffins are Smoked Chicken Brioche with Tomato and Peach Relish while the swiss rolls are Sliced Gravlax Salmon Soft Goat's Curd rolls. Very sneaky and delicious!
More familiar flavours are found in the bird cage - superbly soft macaroons in strawberry and blueberry, bite-size lemon meringue pies, and egg salad sandwiches. Then to mix things up again, marshmallows are formed to look like "Pau" and crispy katafi rolls are filled with mango and pastry cream. Every bite brings a new surprise.
Paired with the morsels of fun are equally exquisite Dilmah teas. These teas are picked, perfected and packed in Sri Lanka making them single origin Ceylon Teas (Ceylon once being the name of Sri Lanka). For tea connoisseurs that means quality, for the rest of us that means great tasting tea.
A treat for guests of W Singapore's high-tea is the chance to taste the rare Dilmah Seasonal Flush: Dickwella Estate Pekoe 1. This tea is so rare that it is only harvested once a year and only if conditions are just right. The amount of tea they collect varies on the growing conditions and this year they were able to produce 1000 tins, of which W Singapore got 100. I enjoyed a cup of Dickwella Estate Pekoe 1 with my high-tea and even brought a tin home with me - meaning I single handily made this tea even more rare. My suggestion is to make your way to W Singapore-Sentosa Cove to try the unique snacks and this award winning tea before it's all gone.
Drop the T² is available from 3-5 pm daily at W Singapore-Sentosa Cove's WOOBAR for S$58++ for 2 and S$98++ for 2 with half a bottle of champagne.
WOOBAR
W Singapore-Sentosa Cove
21 Ocean Way
Singapore, 098374
T: 6808-7258
E: woobar.singapore@whotels.com
This was an invited food tasting