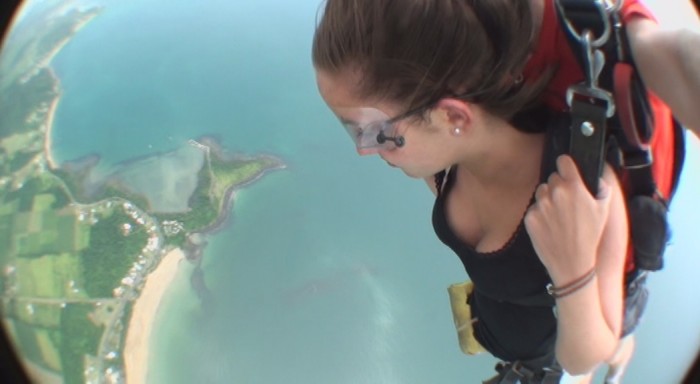 If you're craving a once in a lifetime adrenaline rush, this skydive is a must-do during a trip to the East Coast of Australia. It's Australia's highest tandem skydive, with the highest jump from 14 000 ft with a 60 second free fall! I'm not big on heights, but i figured if i was ever going to be adventurous and jump out of a plane I would definitely prefer to do it looking over the Great Barrier Reef and landing on the beach!
We were staying in Cairns at the time, and decided to book the day-long excursion to Mission Beach. It's about a two hour early morning bus ride, the bus included in the purchase of the skydive. You arrive back in Cairns by about 3pm, so there's still time for an afternoon swim in the lagoon!
A lot of people snorkel or scuba dive the Great Barrier reef (which is another extraordinary experience) but the view from the top is equally as memorable. Getting to soar over tropical islands and aqua-blue seawater is a really unique experience. When we got closer to landing the instructor even pointed out some sea-turtles he saw swimming on the reef! Overall, thinking back on all the great activities we did throughout our trip I'd have to say that this was definitely one of the best. Not to mention, how cool it sounds to tell your friends back home that you went skydiving in Australia!
Skydive Australia is a great company to book with. They have jumping spots all along the east coast, so it's still a possibility even if you don't make it all the way up to Cairns. They have super friendly instructors that make the experience that much more exciting. Each instructor does about 4 jumps a day, but act just as excited each time to make the experience enjoyable for the often first-time jumpers. The instructors run you through a brief training session for ultimate safety. But in all, you really don't have to do much, the instructors that jump with you do all the work which allows you to really take it all in and enjoy!
It is slightly expensive (about $250-300), especially for a budget traveller like myself, but the experience is 100% worth it. The optional video and pictures of the skydive (about $80) is a great souvenir that I'd highly recommend. If you want to cross skydiving off your bucket list, the east coast is the best place to do it!
To book visit www.skydivemissionbeach.com