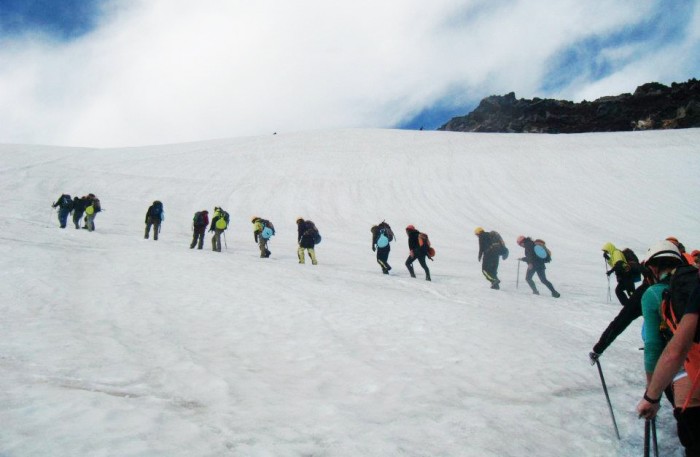 Travel will change you. It will open your eyes to new people, new cultures and new experiences. It will test your patience, your stomach strength and your ability to cope when you are out of your element. Travel will change you, thankfully for the best.
Climbing Mt Villarica in Pucon Chile is one of my greatest travel memories. Mostly for the fact that we managed to climb a Volcano. A real life, smoking from the top, ice tipped volcano! And it was no easy feat.
After scoping out a few different companies we ended up going with the one who gave us the best deal. Although they say in foreign countries it's always best to go with the safest company, especially when doing anything that could endanger your life, I apparently enjoy living on the edge... Just like the time I did Death Road in Bolivia and went with one of the cheaper companies and then opted for a single suspension bike to save myself 5 WHOLE DOLLARS! Who does that??
The guides fitted us with climbing boots, waterproof gear, crampons and icepicks and we were lucky enough to have a beautiful clear day the next morning for the climb. The trek took about 6 hours to get to the summit, with me setting the pace because I was the slowest. I'd like to put that down to my short legs but I don't know if everyone would let me get away with that. It was an extremely steep climb and once we hit the snow we needed breaks every 30 to 45 minutes, my arms and legs were shaking from fatigue and I didn't think I would have had enough strength left in my body to save myself with an ice pick if I somehow manage to fall off the edge. I have to admit there were so many points on the climb that I seriously thought no way am I making it. Thankfully though our amazing tour guides sang to me, my mates pushed me and eventually against all odds I managed to make it to the top.
As soon as I saw the smoke from the crater and then turned back to see the spectacular views over the lake district that went all the way to Argentina, the memories of the struggle to get there all seemed to vanish. After taking a million photos and a video dancing to Pitt Bulls "Good Feeling" we downed a beer which was so lovingly carried up by our English mate, who probably packed his bag when he was still drunk that morning, and made our descent.
With hard plastic shields strapped to our butts and our icepick in hand we were let loose like bobsledders flying through ice shoots! I knew I had accomplished something big as i whizzed down feeling like I was on top of the world. Two hours later we finally made it to the bottom, exhausted but with amazing memories in tow.