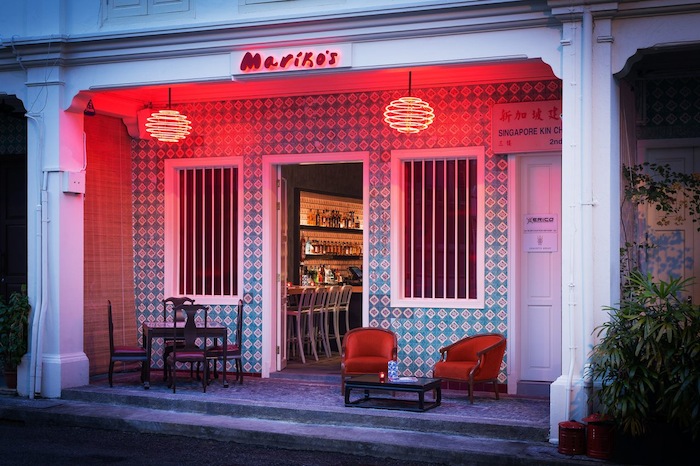 With two red lights glowing outside a renovated shop house in the former red light district turned hot spot of Jiak Chuan Road Singapore, Mariko's seems to be a fitting concept for a Japanese restaurant in the area. Looking like a dark and seductive Japanese den, the restaurant is named after a 1950's manga character Mariko; a Japanese prostitute. With a cheeky concept such as this, it's no surprise that besides a menu of ramen, yakitori and tempura, you can expect a well stocked bar of Japanese whisky, sake, beer and creative cocktails.
While the front of the restaurant looks to be an ideal spot to hangout at night, the back offers a cozy atmosphere for lunch or dinner with friends which is where I start my tasting experience.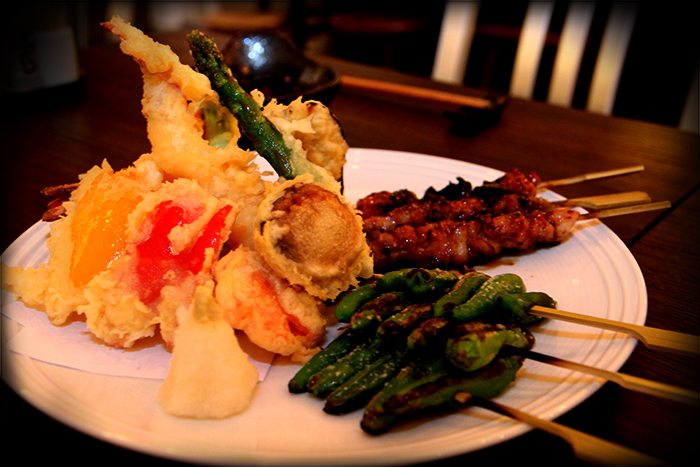 The man behind Mariko's dishes is Executive Chef Desmond Lim with 30 years of experience in Japanese cuisine. Joined by two friends, we try out his creations starting with the Yasai Moriawase Tempura (vegetable tempura S$15) and a few skewers of chicken and Japanese pepper Yakitori.
Having never had a Japanese pepper before, I can't help but be suspicious as it looks alarmingly similar to a jalapeño. Waiting to see if anyone else is going to try a pepper first, I realize I'm just going to have to take a bite to find out for myself. With an uneasy feeling I take the smallest bite only to get a pepper taste closer to a slightly bitter capsicum rather than the burning heat I was dreading. Not bad. It seems as though I wasn't the only one scared of the peppers as I get a worried look from the table "Was it hot?" Everyone was waiting for a guinea pig.
Being lunch time on a weekday, Mariko's Ramen Set Lunch (starting at S$18) is a must. The set which is available only on weekdays includes a bowl of ramen, salad, rice and chawanmushi, followed by the dessert of the day.
We each try a different ramen flavour: Kim Chi Ramen, Shoyu Ramen and Miso Ramen. To taste the difference, I scoop a spoon full of each broth checking the colour, smelling it, swirling it around and swishing it in my mouth. Ok not really, but with each taste I can distinctly taste a difference and each were exceptionally good. As much as I love Kim Chi, I have to say the Miso Ramen made with fish broth is hands down my favourite. A truly flavourful soup that trumps any regular bowl of ramen out there.
We end our meal with a little Green Tea Mousse and I think to myself what a great lunch. I can't wait to come back on a Friday night and sip cocktails while listening to the DJ spin Japanese and western house, soul, tech house and funk to take in the full Mariko's experience.
Mariko's
4 Jiak Chuan Road
Singapore
Open for lunch, dinner and drinks Mon - Sat: 12:00pm-1:00am
This was an invited food tasting