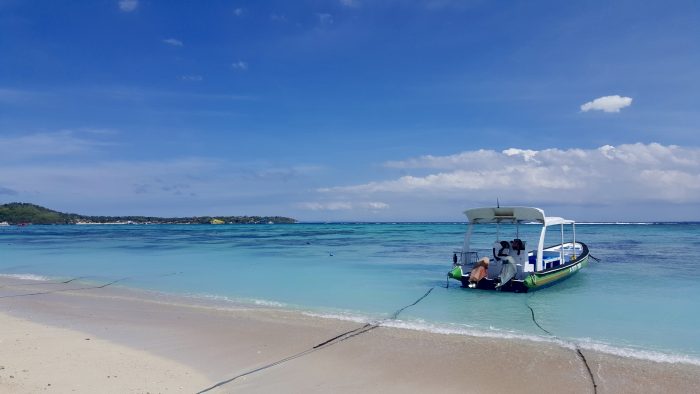 Less than 45 minutes by boat from Sanur in Bali lie two beautiful islands waiting to be explored: Nusa Lembongan and Nusa Ceningan. Both have stunning scenery, crystal clear waters and a slow island way of life. Discover the charm of both of these islands on your next trip to Bali.
Guide to Nusa Lembongan
Nusa Lembongan attracts a crowd of wave worshipers, scuba junkies, beach bums and day trippers from mainland Bali. It's an easy place to explore by bike or scooter with almost all of the islands best sights within a 15 minute drive from anywhere! Here you'll find beautiful stretches of white sand, amazing snorkelling and dreamy sunsets.
What to do in Nusa Lembongan?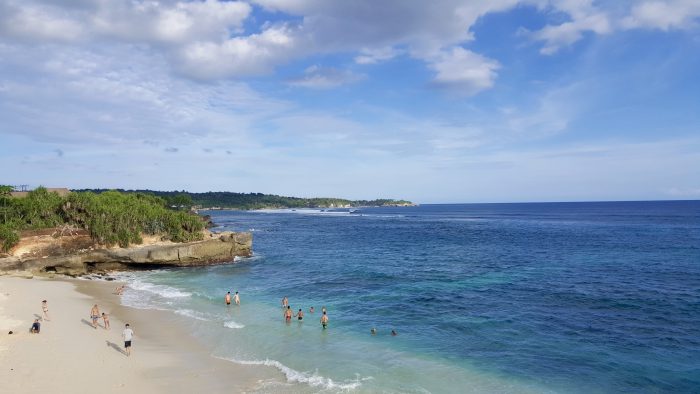 Beaches
Dream Beach is a small sandy cove with crashing waves perfect for relaxing the day away. The Dream Beach Huts overlooking the beach offer an infinity pool and sun loungers for day use with a small fee or when eating and drinking at the resort. Also nearby is the look out point known as Devil's Tear.
Mushroom Bay is the spot to be when the sun goes down. On one end you'll find bean bags along the sand to cozy up and watch the sunset. On the opposite side there's a bar with a small infinity pool you can use while eating or drinking which offers a perfect spot to experience sunset.
Jungutbatu Beach stretches down from where the boats come into Lembongan and is a surprisingly pretty beach. A sidewalk runs the length of the beach and is lined with beachfront accomodation and pools overlooking the sand. Many of the resorts here allow for use of the pools and loungers when drinking or eating with them.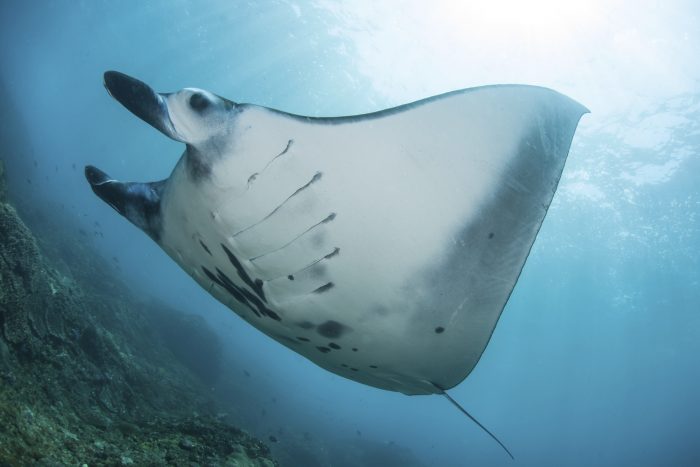 Diving
Many people flock to Nusa Lembongan in search of the majestic manta ray and in hopes of spotting the weirdly wonderful Mola Mola. There are plenty of dive shops throughout the island with two of the top rated ones being World Diving Lembongan and Lembongan Dive Centre. The most popular dive sites are Manta Point and Crystal Bay.
Snorkelling
Snorkel trips are cheap and easy to organise. Most accommodation can arrange a half day snorkel trip for you or point you in the direction of where to book one. Boats usually carry between 10 and 20 people and all go to the same few snorkel spots. If the mantas aren't around the snorkelling at manta point is pretty under whelming although Crystal Bay has plenty of fish to admire. Pricing is less than IDR 100k per person.
Surfing
Surfers have known about Nusa Lembongan for years and many are probably sad to see it filling up with those outside the surf community. You'll find the surf here a lot less crowded than the breaks found around mainland Bali. The most popular breaks are Playgrounds, Lacerations, and Shipwrecks.
Day Trip
From Nusa Lembongan it's easy to take a day trip to Nusa Ceningan by scooter or bike and the picturesque island of Nusa Penida can be reached by boat for a day or overnight trip. See below for more information on both.
Where to Eat & Drink in Nusa Lembongan?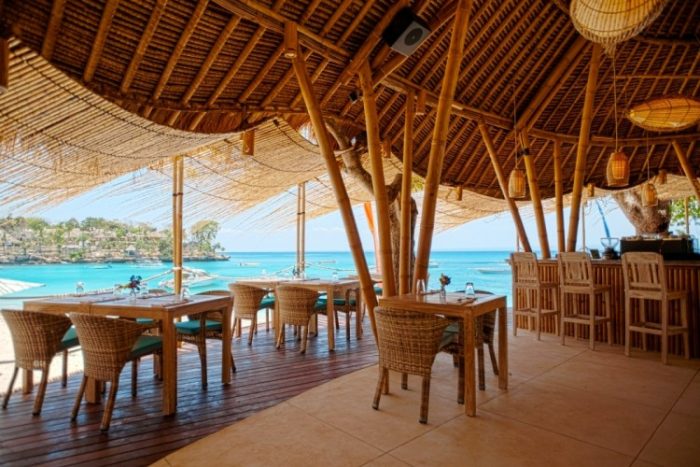 Although Nusa Lembongan draws a big crowd of vacationers and day trippers it still manages to stay pretty chilled out. You won't find any large night clubs or insane parties here. What you will find is live music and friendly beach parties with expat families, locals and tourists alike. Friday nights at Blue Corner Bar is the place to be.
There's no shortage of food options on Nusa Lembongan with everything from cheap local warungs to international fare. If you want to dig your toes into the sand while dining on the island's best seafood head to Warung Bambu. This unassuming beach front restaurant does awesome seafood dishes at great prices. For something a little bit fancy check out Lemongrass Bar and Restaurant. It's easy to spot because it seems to be the only place that ever has a crowd. They do a mix of local and international cuisine.
Along Mushroom Bay Hai Bar and Grill is a popular all day spot where you can enjoy the beach views, cool off in the sea and enjoy a tasty pizza. Once you're sat on a bean bag with a cocktail in hand you'll find it hard to move on.
Where to Stay in Nusa Lembongan?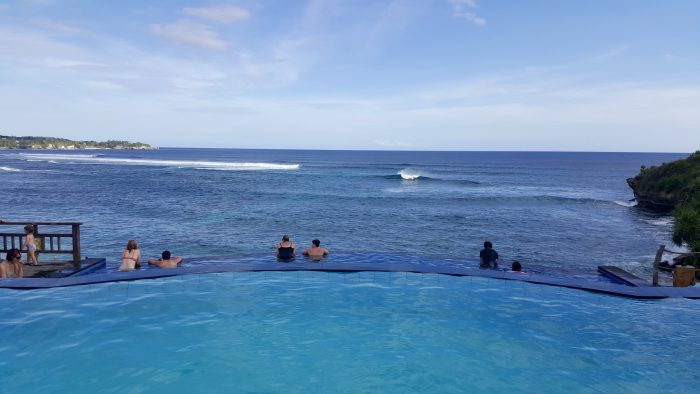 There's no shortage of accommodation on Nusa Lembongan. Here you'll find everything from cheap and cheerful guest houses, dive resorts, beach front accomodation and high end resorts scattered throughout the island. The majority of budget friendly accommodation is found in town a few streets back from Jungutbatu beach. As you get further out towards Mushroom Bay and Dream beach the accommodation gets higher end.
Jungutbatu Beach is littered with beach front resorts for all budgets. The beautiful Lembongan Beach Club and Resort offers luxury private pool villas starting from $220 USD. Along the same stretch of sand the good value Tarci Bungalows offers a small beach front pool and clean simple rooms starting at IDR 300k.
Hai Tide Beach Resort along Mushroom Bay has wood bungalows right on the beach or set amongst a lush garden only steps from the sea. With only 18 rooms they book up fast. Rooms start as low as $100 USD.
Dream Beach Huts sits right on popular Dream Beach with a large restaurant, deck and infinity pool with fabulous views of the beach and sea. Huts start from $60 USD, this place is popular with families.
One of Nusa Lembongan's most luxurious accomodation options Batu Karang Resort & Spa offers impressive villas, multiple pools and outstanding vistas over Jungutbatu Beach.
How to Get Around Nusa Lembongan?
There are plenty of ways to discover Nusa Lembongan and because of its size it never takes long to get anywhere. The Bemos (public cars) will get you to most of the popular spots around the island but if you're looking for freedom, hiring a scooter is the way to go. Most of the roads are well paved and there isn't too much traffic which makes it nice and easy to get around. Bikes are also a good option you're up for a bit of exercise.
Guide to Nusa Ceningan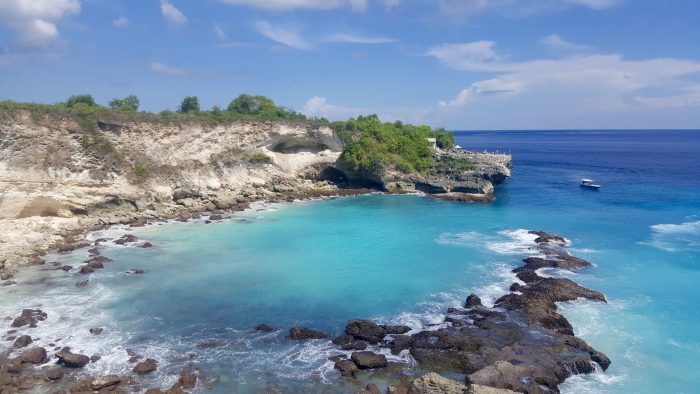 The majority of visitors to Nusa Ceningan scoot or bike over for the day from Nusa Lembongan. This tiny island is super laid back and offers a few places to sleep and eat for those looking for a real tranquil escape. Whether you stay on Nusa Ceningan or not you can't leave Lembongan without taking a day trip over the bright yellow bridge to discover this quaint little island.
What To do in Nusa Ceningan?
Blue Lagoon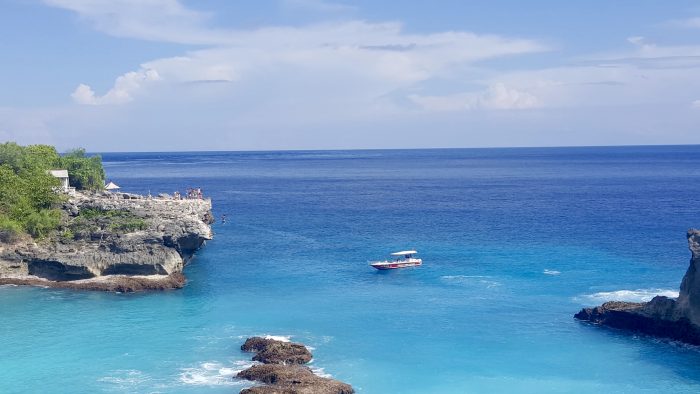 Follow the signs to the Blue Lagoon where you can take a giant leap into the blue abyss from a 13 meter cliff jump. There used to be a bar here but unfortunately it has all closed down and the ladder to get out is now gone. When we visited there were still some brave souls making the jump and climbing up the rocks to get back up. It can be very dangerous depending on the swell (lots of cuts and gashes from coral) we don't recommend you jump unless there's already people there who can tell you how to get back out.
Even if you have no plans on jumping it's still worth a visit for the beautiful views and to admire the brave souls who do jump.
Abyss Zipline
For $10 you can take a short zipline ride across the crashing blue waves below. They also have a pool you can lounge beside.
Dive
If you decide to stay on Nusa Ceningan then diving with Ceningan Divers is your easiest option for exploring the underwater world of the surrounding islands.
Admire Village Life
As you cross the bridge over to Nusa Ceningan you'll spot the seaweed farmers wading through the shallows picking and planting seaweed. A cruise around the island will give you a glimpse into the different stages of seaweed farming.
Where to Eat & Drink in Nusa Ceningan?
Nusa Ceningan has much fewer options for food and drink but still has some worth while spots to try. Sea Breeze Warung is great for tasty local fare with a view out to sea. A bit further up you'll find Le Pirate which offer well done international fare. You won't find much if anything in the form of nightlife here instead enjoy the peace and quiet and admire the stars.
Where to Stay in Nusa Ceningan?
Because the majority of visitors opt to stay on busier Nusa Lembongan accomodation is few and far between. However if you want to avoid the crowds there's still some great options. Le Pirate has beautiful ocean front accomodation with a small pool over looking the shallow seas where you can admire the seaweed farmers at work below. They also have a nice restaurant serving up tasty grub and cocktails. There's a handful of other options you can find on Airbnb.
How to Get Around Nusa Ceningan?
There's no public transport on Nusa Ceningan it's easiest to get around by scooter, bike or on foot.

[imagebox maintitle="Nusa Penida " subtitle="A Travel Guide" image="https://sumabeachlifestyle.com/wp-content/uploads/2016/07/20160702_084939-1.jpg" color="white" space="60" link="https://sumabeachlifestyle.com/nusa-penida/"]