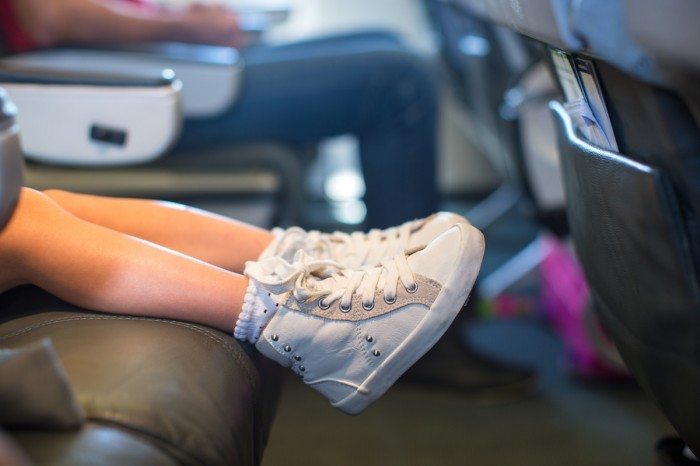 Being avid travellers before the addition of a baby, my husband and I swore we wouldn't slow down once our little guy joined us. We'd just include him in our travels! Once Liam came into the world, we very quickly realised just how naive that thought was. After surviving our first 6 months of sleep deprivation, we decided we were finally ready to travel, this time with baby in tow.
In a span of 4 months from the time our baby was 8 months to 12 months old we found ourselves in Italy, Australia, Canada and Malaysia. This is what we learnt travelling the world before our son's first birthday.
Start with a Trial Trip
Before heading out on our first long haul flight, we testing the whole travelling with a baby process by doing a trial trip to Kuala Lumpur, Malaysia. We live in Singapore so Kuala Lumpur (KL) is less than an hour flight away for us. During that first trip we realised what we needed and didn't need to bring and what to look for in a hotel.
What to Look for in a Hotel
Cleanliness is number one - look for nicer hotels or be prepared to clean yourself
Apartments are the way to go - on our first trip we were upgraded from a hotel room to an apartment and the extra space, microwave and dishes came in really handy
More room the better - babies are active at home, so of course they're going to want lots of space to explore when they travel too
Located in a pedestrian friendly area
What to Bring on the Plane
Multiple changes of clothes for baby and parents. After having 2 diaper leaks on our flight from Singapore to Canada, I found myself buying new a set of clothes for me and the baby during our stopover in Hong Kong
Toys of course - stackable cups, quick toys to not disturb other passengers, baby's favourite toys and new toys purchased just for the journey are great choices
Baby food - Many of the airlines do have baby food on board, but what you get could vary from a jar of chicken that smells like cat food (Cathay) to organic baby food (Qantas)
Milk - if your baby's on formula bring lots of bottles, formula and pre boiled water, just incase
More diapers than you imagine you could ever use
Babies and Jet Lag
Jet lag is one of the most common concerns of parents. I know it was for for me. Is it healthy? Will it completely disrupt their schedule? Will they get over their jet lag in time to enjoy the vacation? These are all questions I asked myself before venturing off to the other side of the world with a 16 hour time difference. With my infant son, he got over his jet lag faster than I did. It only took him 1 to 2 sleeps to adapt to the new schedule, and when he did wake up at night for the first night or two, he went back to sleep within an hour. Maybe it's easier for babies before they're 1 year old because they sleep so much anyways.
My biggest tip is to sleep when your baby sleeps so when they do wake up in the middle of the night you are ready to take care of them. Don't be concerned if it takes longer to get over the jet lag once back at home. Everything will go back to normal soon enough.
Proper Baby Identification
Besides finding a place that can take proper photos of babies for passports, trust me it's not that easy to find and do. Another thing to remember is to bring along your baby's birth certificate that shows who the parents are. This is especially important when travelling in Europe and when travelling on your own. Check to see if a letter from your partner is necessary when you are travelling without them.
4 Different Ways to Clean Bottles on the Go
Bottle sterilising on the go can be a major concern especially when bringing the huge electric bottle steriliser from home is not a option. Luckily I found 4 easy ways to clean bottles while away from home.
1. Microwave: With the use of Microwave Steam Sterilizer Bags you can sanitise your bottles and accessories without bringing extra bulk. I even keep one of these in my baby bag.
2. Sterilising Tablets: If you don't have access to a Microwave, Sterilising Tablets are a great option. Just submerge all parts in water with 1 tablet for 15 minutes and voila!
3. Quick Clean Wipes: These might not sterilise your bottles and accessories, but they do come in handy when you find yourself with no other way to clean your bottles. For example, on a plane.
4. Boil them in a kettle: If you find yourself in a hotel room without a microwave, stovetop, or sterilising tablet, a last resort is boiling them in the hotel's kettle. I know from experience, getting them out of the kettle without burning yourself is the hard part, even when trying to manoeuvre with the ice tongs. It's best to wait for the water to cool down before removing the bottle and parts.
Infant Ticket Prices Vary Widly Between Airlines
Before having a baby, I actually thought babies under 2 travelled for free. After paying over $700 for my baby to fly on my lap from Singapore to Canada on Cathay, then just over $200 for him to fly to Europe on Emirates, I realised when looking for the best tickets prices, it's best to find out how much the airline charges for infants before booking your seats.
Baby Airline Bassinets - A Love/Hate Relationship
After flying on 3 different airlines internationally with my baby between the age of 7 and 11 months, I've realised there is a huge difference between bassinets on different airlines and planes. Qantas was the only airline we flew that had a nice big bassinet that secured my baby in for the flight and we didn't have to take him out during turbulence because there was a restraint built in. On both Emirates and Cathay, as soon as there was turbulence, we'd have to take our sleeping baby out and put his seatbelt on, on our lap. Some moms have said they prefer to just keep their baby on their lap so they can sleep without being disturbed during turbulence.
Most airlines say the bassinet can be used up to 12-18 months of age or a certain kg, but after your baby is 6 months of age, there is no guarantee he will fit or you will even feel comfortable with him in there. My baby only just fit in the Emirates and Cathay bassinets at 8 and 10 months of age. On our Cathay flight there was another baby on the plane of the same age, but wasn't anywhere close to being able to squeeze in.
The next challenge is the depth of the bassinet, once your baby can roll over or sit up, he can very easily roll out of the bassinet, so 1 parent will always need to be awake and on watch. Whether you use the bassinet or not, I still like to book the bulkhead row (preferably two seats by the window) as it will give you a bit more legroom where your little one can play on the floor.
What to Pack
When travelling to Italy, I had 1 suitcase for my husband and me, and 1 suitcase for my baby. That's a lot of stuff for a guy who's only 2 feet tall! We also needed to rent a station wagon instead of a compact car because of all of the stuff we had. I don't subscribe to the pack almost nothing and buy the rest there packing methodology. I hate wasting my trip trying to find ordinary things in a foreign city. Here's what I bring on our trips, and I'm always happy I brought them.
Travel cot. Our BABYBJORN Travel Crib is our favourite travel purchase. From giving our little guy a place to sleep during a long layover at an airport, to a safe place to play, to giving him the comfort of always sleeping in the same bed even if we're travelling to different cities every couple days. It's been a great investment especially when we're staying in Airbnb apartments or visiting family
Baby carrier. We tuck a small BABYBJORN Baby Carrier

into our carryon luggage to keep us hands free when in transit or for use when the stroller isn't available as soon as you get off of the plane. Also great for short trips in the city, and where strollers can't go.
Toys of course! Stacking Cups

are my favourite travel toy as they fit together for easy storage, and can be used in the tub and on the beach too. I also like to bring a Toy Leash

to secure toys to strollers, high chairs and even the baby carrier.
Stroller. Some people buy a separate compact travel stroller and I can definitely see the advantage to it. We opted to bring our Bugaboo Buffalo Stroller

to all 4 continents. We never had any problems gate checking the stroller, but it is huge! So plan accordingly when renting a car, or travelling on public transport. Rome was definitely a challenge with a big stroller as there often weren't any elevators to get to the underground trains. We ended up using our baby carrier when travelling on public transit in Rome. In all other cases it was great as we use our stroller in combination with the car seat when travelling by car, and with the normal seat attachment it acts as a high chair too!
Food and formula. Depending on where you go, if your baby is on solids or formula it might be best to bring enough for the whole trip with you. When travelling to Canada, we knew we didn't need to bring anything as our brand of formula is available there and baby food in general is much cheaper than Singapore. In Italy on the other hand, I packed enough formula and jarred baby food for the trip and was so glad I did. Besides baby food being expensive and a limited selection compared to Asia and North America, the flavour choice for a Canadian is interesting with options like rabbit and horse...
Gadjets galore. For squishing and preparing baby food at your home away from home or at a restaurant, I like to bring a Baby Food Masher

or Baby Food Grinder

. I also like to bring our suction bowls, baby spoons, bibs,
Sun protection. Don't forget a hat, sunscreen, sunglasses
Road Trips are your Friend
When travelling with a baby, slow is the way to go. Our week long road trip through Tuscany was perfect as our baby slept great in the car and we stopped often at fruit stalls, small towns and wineries giving him lots of chances to get out and explore. I would choose traveling by private car over a public train any day as you don't have to worry about your baby annoying other passengers, have access to everything you need in the trunk of the car, travel according to your baby's schedule, and can pull over and play whenever the baby gets antsy.
Have you travelled with a baby? Share your tips in the comments below to make travelling with a baby fun for the whole family.